To discuss single types of uniforms in detail would be too much for this kind of publication. So I will present here just principles in the change of style during the time of the Kingdom of Hanover 1814-1866.
There are still a few very excellent books available about the various uniforms and their details of Electorate & Kingdom of Hanover. Pictures shown here are from a book, that has been unavailable for decades. If you have a special interest in uniforms of the Electorate of Hanover during the 18th century (times of the Seven Years War), you should try to get the first book mentioned in literature list below. After the SYW, the colour patterns of the uniforms were changed as well as the structure of regiments.
| | | |
| --- | --- | --- |
| Infantry of mid-1700s | | Cavallery of mid-1700s |
| | | |
| Infantry Regiment 5b Uelzen | | 3rd Cavallery Reg. Stade |
| | | |
| --- | --- | --- |
| Infantry during the late 18th century | | Cavallery during the late 18. century |
| | | |
| 5th Infantry Regt. Uelzen | | 2nd Cavallery Regt. Celle |
| The colours of the uniforms in the infantry were basically red (like the British), the regiments had differently coloured lapels though. | | Also the cavallery had an basic uniform coloured blue. Parallely to the infantry, the different regiments had differently coloured lapels. |
During the Napoléonic Wars, the Electorate of Hanover had been temporaly occupied by Prussians and French. In order to fight against Napoléon and for the freedom of their own country, Hanoverian went - illegally - to Britain. There, they could become soldiers with the King's German Legion. The Elector of Hanover, in personell union King of England at the same time, had an interest in the freedom and independany of his German country as well. You'll find more information at the KGL's server at http://www.kgl.de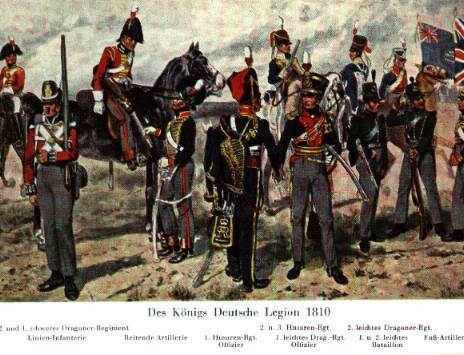 After the defeat of Napoléon, three big changes in the style of the Hanoverian uniforms were made.
1832 King William IV. of Hanover & England gave his army British uniforms. However, these differed from the British originals by ornaments, arms, and cocards (from outer to inner: yellow-white-black).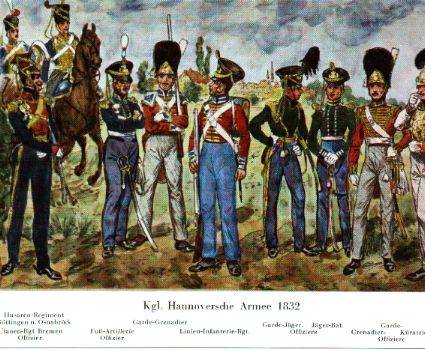 When the personell union had an end in 1837, the uncle of Queen Victoria, Ernst August, became King of Hanover. He introduced unifroms by Prussian style to army and cavallery. His Garde du Corps wore the significant "Pickelhaube"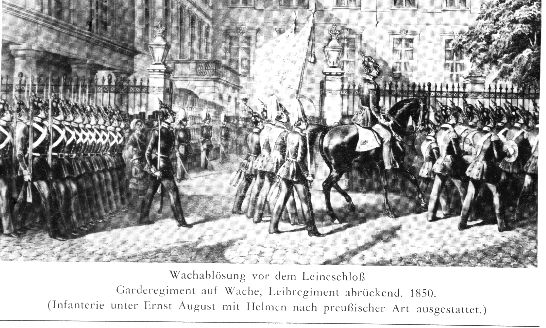 His son and next King, George V., was instead of his father, influenced by Austria. Also, because there had been a lot of intrigues at the blind King's court. Some historicans see this as a main reason, why Hanover was annected by Prussian in 1866. However, King George's army were equipped with uniforms of Austrian stlye, just the Garde du Corps still had the "Prussian" uniform.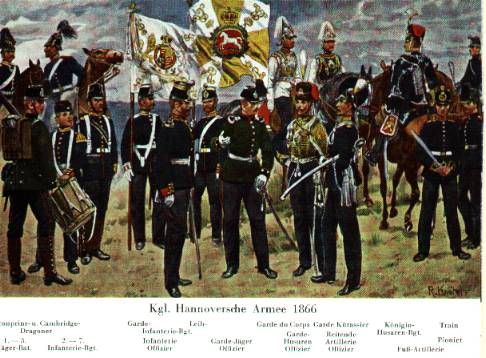 ---
More information about the Hanoverian Army? Check out www.necasperaterrent.de !
Literature:
1. Niemeyer/Ortenburg, The Hanoverian Army During the SYW, Beckum1977 ("Gemnunder Prachtwerk Part 1" / ISBN: 87-85216-06-2)
2. Niemeyer/Ortenburg, Die Hannoversche Armee 1780-1803, Beckum 1981 ("Gemunder Prachtwerk Part 2" / ISBN: nn) This book is only available at Preuß. Bücherkabinett, Knesebecker Str. 88, 10623 Berlin / http://www.buecherkabinett.com order-no: 535/7, 24,80 DEM
3. Ronnenberg, Abbildungen der kurhannöverschen Arméeuniformen, Hannover 1979 (ISBN: 387706177X)
4. Hofschroer/Fosten, The Hanoverian Army of the Napoléonic Wars, London 1989, (ISBN: 0850458870)
5. Niemeyer, Die königlich-hannöversche Armee, Celle 1989. This book is available at the Bomann-Museum Celle, Schloßplatz 7, D-29221 Celle (i.Han.)